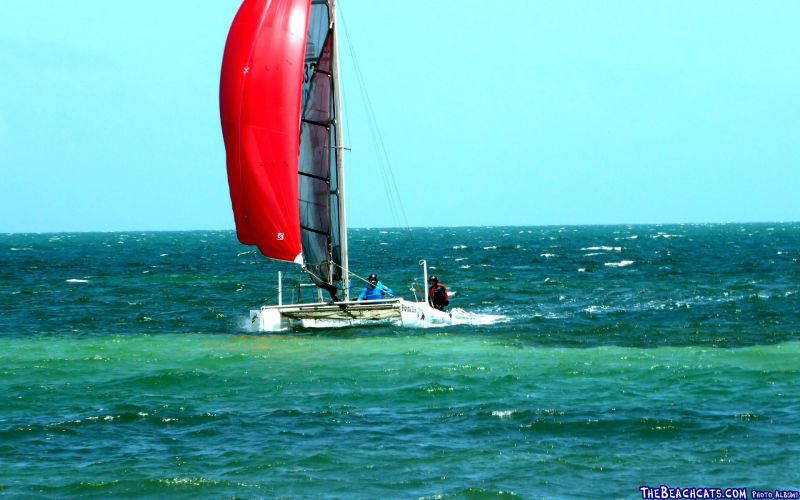 Sorry I was not able to post the last two legs until now. I was getting ready to do a post on Saturday morning about Friday's leg when I realized the waypoints in the Sailing Instruction were incorrect and had to figure out the correct ones. Then the tracking server had issues and was not tracking and locked me out. I spent till about 30 seconds before the start on my laptop trying to get it sorted to no avail which made the start a bit more hectic being thrown into the mix.
Well the Vero Beach to Cocoa Beach leg turned out to be similar to the two prior legs with light winds most of the day then sailing into a huge storm into the finish. We were battling with My Dixie Wrecked and Irrational Again and had a layline to the finish when the storm hit. The storm was worse than what we ran into the prior days bring 35-40 mph winds and distant lightening. Both the other teams went ashore but we decided to stay out and sail conservative beating now to the finish line. Despite our 12' 6" beam, we were being bounced about quite a bit by the choppy conditions and the wind under the tramp felt like one good gust and bad bounce would put us over. We were bouncing too hard to put anyone on the wire so we put our weight up as much as we could. After the storm passed. The other two teams were back out racing. We did not make much headway beating in the rough conditions. Now we were back in race mode again and double trapped headed to the finish when my harness came unclipped and I went overboard holding the main traveler in one hand and the hiking stick in the other. The hiking stick broke and I had to let it go to pull myself aboard with both hands. Mark did a great job of turning the boat into the wind and helping me back aboard. With the hiking stick broken, we could only single trap and My Dixie Wrecked got by us yelling "You Guys are Nuts" for staying out. We had a good run into the finish and were glad to be back on land with only a broken hiking stick.
Before the Cocoa Beach to Daytona start, I spent till about 30 seconds before the start on my laptop trying to get the tracking for the race sorted out but I found out later that the server had issues and would not let me login. A bit tight on time made the start a bit more hectic being thrown into the mix but the team had the boat pretty much ready. This leg brought us around Cape Canaveral with the lightest winds of the race that were constantly changing direction. At one point Five of us were in a hole for 45 minutes with absolutely no wind. Once the wind started to fill in again, we were pretty far offshore and able to get a decent line in. We were hoping for storms to bring wind but that was not to be. When we were within 10 miles, the wind picked up enough so we were able to get enough speed to catch Team Tiger. As we attempted to pass them, they headed us up and we were not able to get around them. On our second attempt, their crew got out on the wire so they could head higher and close us down again driving us both in the wrong direction. Fed up with that, we drove below them and worked our way down to the finish. They kept heading out on what we called a "God Reach". We were able to beat them across the line without any jibes.
I achieved my main goal for the race which was to finish. Through attrition we were able to capture 3rd in class and 8th on elapsed. I found an issue with my rating which I need to correct before the next race and would have ended up 9h on corrected. At the awards I bought some raffle tickets at the last moment which paid off. I won a $20 gift certificate from Performance Sail and Sport, a really nice snorkeling set with bag from West Marine and a 50% off certificate for a new sail from Calverts. The wife was not too excited about the Calverts certificate. Maybe a spinnaker to go with my new Calvert main an jib is in order!
What a great race and great month. Between the run down from Singer Island to Islamorada (Miami-Key Largo race included) and the Florida 300, I put in over 500 miles on the boat with no major issues.
A special thanks to Dennis Green for loaning me his spinnaker and snuffer system, Calvert Sails for the awesome set of sails, Mark Herendeen for doing such a great job all week and helping me learn to run a spinnaker, Mike Shappell for all of the help on the rebuild and doing a superb job all week long, Rob Behrend and his son Zack for doing the Singer Island to Islamorada run, Kerri Powell Van Eaton and Lisa Herendeen for putting up with me and helping out during the race and finally the race committee. Looking forward to my next adventure what ever that may be!